around the hole everything is edge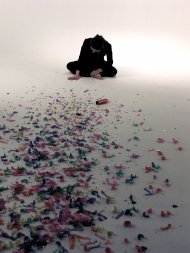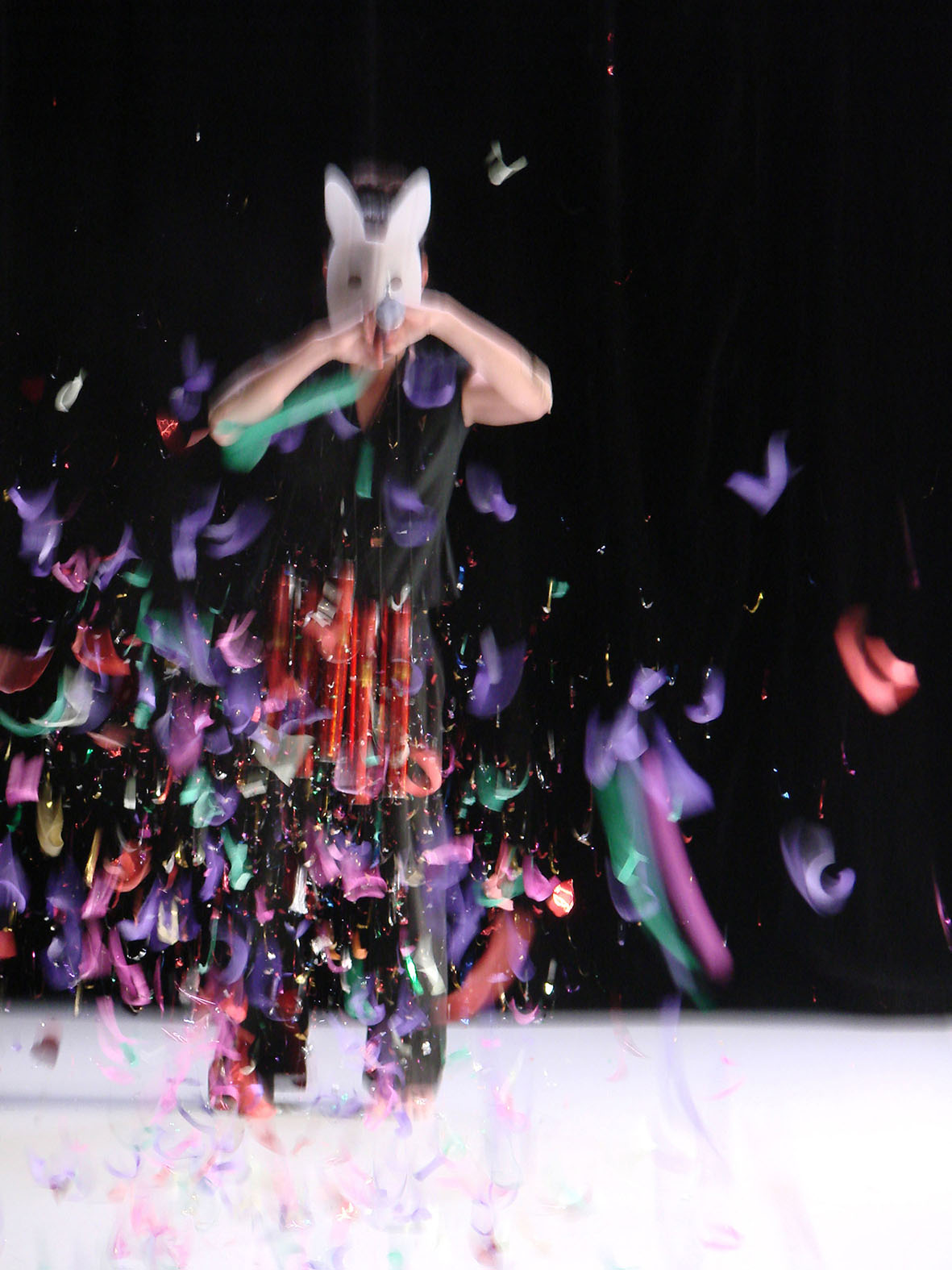 Marcela Levi | Improvável Produções
Brazil
2009
- There's not a film without a story. Have you already tried to build a house without walls? It's the same. You can't build a house without walls. A film must have walls, Friedrich. It must have walls, do you see?
- Why walls? The space between the characters can support the weight.
We are talking about... the space between people.
(Wim Wenders)
If there is strangeness in both bodies on scene that seem never to talk to each other directly, this is due to the fact that Levi abandons the idea of dialogue as an encounter, exchange, or convergence, and so proposes another experience, inspired by the thought of Maurice Blanchot (The Infinite Conversation) for whom the conversation takes actually place as discontinuity, in the empty space that erupts between a speech and another. Around the hole everything is edge is offered as a fable that allows itself to be interrupted, that arises from the articulation of "short manifestations" (autonomous and powerful short fragments) that repel and attract each other so as to always maintain the sense under tension.

(Laura Erber)
Technical file

Artistic direction: Marcela Levi
Performance and Co-Creation: Flavia Meireles (now performed by the invited artist Lucía Russo) and Marcela Levi
Dramaturgic collaboration: Laura Erber
Assistance: Denise Stutz
Lighting design: Fábio Retti
Music: Marcela Levi and Bruno Rezende
Objects and costumes design: Marcela Levi

Artistic residencies:
La Laboral-Ciudad de la Cultura, Gijón/Espanha
Residency Program - La Casa Encendida and Universidad de Alcalá de Henares - Madrid
Espaço SESC / Rio de Janeiro
Support: Espaço SESC / Rio de Janeiro
Co-production: Bienal Internacional de Dança do Ceará
Production: Improvável Produções

Thanks to: Sérgio Rezende, Ginetta Mortera, Claudia Garcia, Nicolas Boudier, Wolmir Cordeiro, Maria Alice Rabelo, Karl Erik Schollhammer, Benedito and Iracema Meireles, Daniel Pizamiglio, Micheline Torres, Ana Cristina, Néia, Felipe Ribeiro, Bia Radunsky and all the staff of Espaço Sesc.

This project was awarded by the National Arts Foundation (Funarte) at the Program Bolsa de Estímulo à Criação Artística.

Around the hole everything is edge was cited as one of the 2009 dance highlights by the dance critic of the national Brazilian newspaper O Globo (12/31/2009).

Em redor do buraco tudo é beira was awarded the ZKB Acknowledgement Prize 2010 (09/04/2010):
31o. Zürcher Theaterspektakel Festival :: Zürich :: Switzerland
4-Set-2010
"The Acknowledgent Prize allows for additional recognition and support of a nominee whose work is considered to be outstanding. It is awarded to a company or an artist for extraordinary achievement in such areas as choreography, dramaturgy, audience participacion or acting." (from Festival Website)

The Jury 2010
Jetse Batelaan, theatre director, Rotterdam
Sandrine Kuster, actress, festival and theatre director, Lausanne
Hiromi Maruoka, producer and cultural manager, Tokyo
Simone Truong, choreographer and dancer, Zurich
Ariane von Graffenried, author, spoken word performer and theatre scientist, Bern

Statement of the jury:
Marcela Levi and Flavia Meireles (Brasil): around the hole everything is edge

The Acknowledgment Prize of 5000 Swiss Francs is awarded to Marcela Levi and Flavia Meireles for their performance around the hole everything is edge. With fascinating simplicity and precise choreography the two performers manage to create a space full of images on the topic of war and violence. Their fragmentary, poetic and unmoral approach is touching and at the same time thought provoking. Flavia Meireles convinces as an outstanding performer and makes a significant contribution to the success of the performance. Operating at the cutting edge of contemporary dance and visual arts, Marcela Levi and Flavia Meireles connect with the audience in an open, subtle and direct way and manage to make them laugh despite the sensitive content of their performance. With the ZKB Acknowledgment Prize 2010, the jury would like to encourage the performers to expand their artistic researches.